By Webmaster - Last updated: Wednesday, March 4, 2015
Recent TRAI's performance indicator report suggest that roaming revenue contributes to only 5.5% of total subscription revenue and hence lowering the roaming tariff could have limited impact as increase in volume would compensate for decrease in tariff. However lower roaming tariff on local call / sms (i.e. 65p/min) could cap the local tariffs in home circle as a local call (or a sms send) made from a sim acquired from another circle would become cheaper than that of a home circle sim (home circle tariff is technically under forbearance). Currently local calls contribute to 80% of the total outgoing MoU i.e. ~155min per sub per month.
TRAI has proposed reducing ceiling for: 1) Local outgoing calls while national roaming – Rs0.65/min (Rs1/min); 2) Long distance outgoing while national roaming – Rs1 (Rs1.5); and 3) Incoming call while roaming – Rs0.45 (Rs0.8/min). The last review was done in 2013. This proposal is aimed at the NTP 2012's intention of "One Nation – Free Roaming." TRAI has, however, rejected possibility of eliminating roaming charges completely. Local tariffs remain under forbearance (not controlled by TRAI).
The industry faces a critical spectrum auction starting from Read the rest of this entry »
By Webmaster - Last updated: Tuesday, February 3, 2015
As eCommerce / mCommerce retailing in India touched 10% of the overall organized retail volumes, competition gets fierce with Private Equity backing even small startups with niche ideas and ready to market portals. India's online market comprises of various players with different models. Players that retail pretty much everything from electronics to FMCG products follow a version of Read the rest of this entry »
By Webmaster - Last updated: Monday, January 19, 2015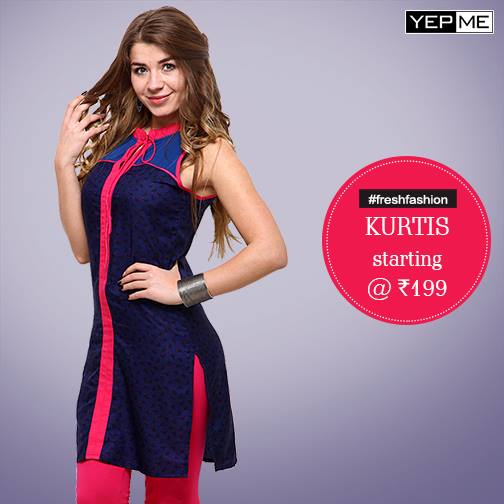 Online eCommerce Startup, Yepme was started in 2011 and has already reached a run rate of US$50m of revenues and expects to reach over US$1bn of revenues by 2020 with a PBT margin of 20%.
Key areas of investments would be to build innerwear, ethnic wear and sportswear brands. India business
should be profitable in the coming year; however, there will be investments in new areas (new categories and
new regions like new website in Singapore). Product mix is currently at 45% apparel, 45% footwear and another
10% from accessories.
Average ticket size is US$10-11 and tier 1 cities contribute 30-35% of its revenues. Yepme sells products through partner websites (like Myntra, Flipkart) which account for 15-20% of total sales. Organic traffic to website is 60% (direct traffic and organic search).
YepMe has 3 million transacting customers, 48% gross margins and 28% contribution margins. Visitor to customer conversion rate is healthy at 5%. Over 65% of its transactions come from mobile. The company maintains 2 months of inventory. YTD write off is less than 0.6%.
The company considers its Read the rest of this entry »
By Webmaster - Last updated: Wednesday, November 19, 2014
Xiaomi has surpassed Samsung/Lenovo to become the #1 smartphone brand in China in 3Q14, within four years of launch. Despite selling high-end hardware at a mid-range price point, our detailed pricing / cost analysis suggests an e-Commerce model of Xiaomi's scale could have an operation margin of nearly 7-8%. If true, this would make the "Xiaomi model" one of the most profitable among global Android brands.
We think Xiaomi's high volume per model (and thus BOM cost advantage) can be applied to other markets. But it may have to overcome challenges in Intellectual Property Rights, global branding and data security, while the availability of Google Mobile Services also lifts the Read the rest of this entry »
By Webmaster - Last updated: Monday, August 18, 2014
Reliance Jio Infocomm is all set for a Big Launch in India in the next few months. Globally, there are no examples of a new entrant in a new technology who has ventured out successfully. Several new entrants have entered the US and Canadian markets over the past five years, but currently their combined market share is in the mid-single digits.
What Lessons we learn from Global Telcos Who Ventured to Challenge Incumbents ?
3 in the UK and Italy have gathered just 9%-10% share of service revenues and 10%-12% share in subscriber market share. They have positioned themselves as the 'value proposition' in the UK and have pushed dongles quite hard with moderate success. Yoigo who launched in 2008 has also struggled in Spain. Iliad entered France in 2012 with 3G and 4G technology. It offered cheap value proposition with large bundles. Market share of SIMs is 11% (but just 5% of service revenues).
Zain KSA in Saudi Arabia was Read the rest of this entry »
By Webmaster - Last updated: Monday, August 11, 2014
In its Jun-14 earnings call, Info Edge management suggested that real estate advertising market / opportunity is much larger than even jobs (a business that is 5x 99acres' size for Info Edge). Hence, the growth opportunity is quite sizable in the real estate market for Info Edge.
99acres delivered 48% Y/Y growth in FY14 despite the tough macro environment. The online real-estate business is highly underpenetrated and there is significant headroom for growth. Also, management suggested that there is an incremental
shift from print real-estate advertisements to online portals, a trend Read the rest of this entry »
By Webmaster - Last updated: Tuesday, July 8, 2014
Reliance Jio Infocomm the PAN India 4G LTE License holder has indicated that it will also use the recently won 1800Mhz Spectrum to Deploy. Reliance Jio plans to launch both the FD and TD version of LTE together. We don't see a very robust and affordable ecosystem/handset supporting the model at this juncture. Note that Jio will be among the few operators globally to attempt both versions of LTE simultaneously on one instrument.
Jio's spectrum suffers from poor coverage. Jio has 20MHz of spectrum in the poor 2.3GHz band but merely 5MHz of spectrum in better 1,800 MHz. While 5MHz could be enough in the initial rollout, RIL will need to depend upon the 2.3GHz spectrum for capacity. This would mean that Jio will need to deploy a significantly higher number of towers for full-fledged rollout. We estimate Reliance Jio will need 150,000 BTs over the next two to three years.
Another challenge that Jio faces is voice. It is early days for Voice on LTE (VoLTE). Currently, Jio does not have spectrum in the 3G spectrum/HSPA bands, which could have allowed the company to provide Read the rest of this entry »
By Webmaster - Last updated: Wednesday, June 25, 2014
Indian Internet Local Business Search Giant, JustDial has unveiled Search Plus a more effective platform versus other traditional mediums as it allows a more effective lead generation. The value to vendors is quality leads. The company is focussed on building up the technology, signing up vendors, creating awareness, getting traffic and then starting to monetise. Search Plus will have four parts: a) Ordering – food, grocery, wine, b) Scheduling – doctors, courier, spa, c) Ticketing – bus, train, movie, and d) Buying – e-commerce beginning with branded goods. Going forward, Search Plus services will also be available on the voice platform.
Advantages and USP of Just Dial Search Plus
Local stores can be very competitive on pricing and moreover, in Read the rest of this entry »