By Webmaster - Last updated: Friday, April 25, 2014
Facebook along with Instagram Advertiser and usage data is extremely good. We remain positive on time share fundamentals and monetization opportunity, and see several levers to pull (ad format changes, Instagram monetization) to help offset tougher comps. We remain constructive on underling usage trends (growing US time share) and advertising trends due to improving targeting capabilities, a growing number of advertisers on the platform, growing adoption of App Install and Custom Audiences advertising programs, and new ad formats, including recent right hand rail changes.
App install ads grew rapidly from launch in early 2013 to become a meaningful contributor to FB's mobile ad revenue. In a difficult environment for mobile app discovery, FB's app install ad product represents one of the few opportunities for a developer to achieve distribution across a broad audience. For 2013, we know that FB recorded 245mm app installs resulting Read the rest of this entry »
By Webmaster - Last updated: Tuesday, April 15, 2014
We consider the Indian internet space to be currently in a nascent stage of evolution given low internet penetration. However, in the next five years we expect this space to rapidly mature as consumer behavior evolves and online businesses challenge traditional offline businesses by improving their value proposition.
Relative to China the Indian internet market is approximately five years behind China in areas like: 1) Consumer adoption and usage patterns; 2) Investment in high-speed telecom infrastructure; 3) Value proposition and consumer experience delivered by online companies when compared to the traditional offline peers. We believe that in the coming years, India has the potential to show similar growth as China in the e-commerce space if internet companies execute well Read the rest of this entry »
By Webmaster - Last updated: Monday, April 7, 2014
Reliance Jio Infocomm is likely to launch 4G-LTE based Data services very soon without waiting to ready its network for 2G Voice which requires heavy CAPEX as well as Time. We analyze the impact on Data Services with RJio's launch
Reliance Jio 4G to Put Pressure on Mobile Data Pricing
There is no doubt that a 4G launch by Jio would put pressure on the data rates of incumbent operators. However, a lot of this pressure on data tariffs will depend on the timing of the launch. A launch in the next six months by Jio would be negative, but if the launch is delayed, the pressure on data rates would be moderate, in our view. Pure data products are likely to be key offerings by Reliance Jio. Such offerings may divert data traffic from incumbent operators to Jio's 4G network.
We highlight that incumbent telcos in the next 18-24 months will be better placed to use the contiguous 5 MHz block of 1,800 MHz spectrum and roll out LTE offerings in the next 18-24 months. Using 1,800 MHz will allow incumbents to segment offerings better and implies that the pressure will be limited to pure data offerings like data cards/pocket data devices and not across the Read the rest of this entry »
By Webmaster - Last updated: Friday, April 4, 2014
Jan-Mar is among the seasonally best quarters for Indian telecom operators and our interaction with stakeholders suggests that volume growth would be healthy for GSM incumbents. However, as benefits of a rationalization in promotional offers are largely behind and no further meaningful pricing actions have been taken in Q4, voice realizations are expected to be largely flat. We see volume growth of 3.5-5.5% qoq with a 0-1% improvement in blended realizations (largely led by higher data revenue mix) for Indian mobile businesses. We expect 4-6% qoq mobile revenue growth and 30-80bp qoq margin expansion.
In the medium term, we see sustained focus on driving profitable growth led by increasing penetration of data services and healthy voice pricing. We do not see the entry of Reliance Jio in voice business as a major threat to incumbents. We believe Reliance Jio will not resort to predatory pricing given, a) heavy investment in spectrum and network Read the rest of this entry »
By Webmaster - Last updated: Tuesday, March 18, 2014
VoIP has been a commercial reality for years (Skype launched in 2003). Skype has not had a material impact on domestic call rates but it, together with other VoIP services, has contributed to both a dramatic decline in overseas IDD call revenue and a reduction in international roaming revenues generated by telcos.
The success of Skype in attracting local calls has been limited. We suspect this is primarily a price issue. Using Skype, or any other VoIP service, requires accessing the Skype app, and possibly also accepting lower voice quality. These inconveniences are clearly deemed as worthwhile for customers wishing to avoid very high international call rates (including the customer writing this report!). As a result, very heavy damage has been inflicted on both IDD revenues and roaming revenues generated by operators.
However, to date, this inconvenience has not been deemed worthwhile by anyone other than a small minority of customers for making voice calls in domestic markets since voice calls are either low in price per minute or included within customers' existing bundles. We believe that exactly the same dynamics will be at play in consumers' minds when WhatsApp and Line launch OTT voice. The only additional considerations are,
1. the level of scale, in particular market-by-market, which has been built by individual OTT apps
2. the level of interactivity of users with messaging apps such as Read the rest of this entry »
By Webmaster - Last updated: Saturday, March 15, 2014
The severe technological and security problems that have led to the outright collapse of Mt. Gox – the largest bitcoin exchange globally – on top of the stunning spike in bitcoin prices by more than five-fold late last year and spectacular collapse (then some rebound!) since, some high-profile arrests in the Bitcoin universe, and a swath of regulators and government officials beginning to weigh in on the subject have pushed Bitcoin and digital currencies to Top of Mind.
To start, some of the fiercest believers seem to grab on to the ideology of Bitcoin as providing an escape from centralized control, in particular viewing bitcoin as a new currency free from the grips of any government or central bank. On the other hand, some of the deepest skepticism surrounds the viability of bitcoin as a currency. Eric Posner, Professor of Law at the University of Chicago, believes that bitcoin would be a poor substitute for fiat currency, and would be unable to overcome likely government opposition as well as public distrust even if it weren't.
Daniel Masters, Co-Principal of traditionally commodity-focused hedge fund, Global Advisors, also views Bitcoin opportunities within a commodities framework, and sees parallels between bitcoin and silver, which saw an explosive rise in price as new investors and users entered the market. However, it is precisely the fact that the vast majority of new entrants so far have been investors that has led some to conclude that this is nothing more than a speculative bubble, perhaps already Read the rest of this entry »
By Webmaster - Last updated: Wednesday, March 5, 2014
The impact of these apps on Asian telcos is in many instances just beginning, given low smartphone penetration rates in many of our markets. The combination of low priced smartphones combined with mispricing of data creates significant risks.
Data Vs Voice Pricing: We examine current voice pricing compared to pricing implied by current voice usage and current data pricing. We calculate a data equivalent for current voice usage, and then we solve for the implied "VoIP price per minute" relative to the current ARPM. All markets studied show 60%+ voice revenues at risk.
Voice as a % of total service revenue: Asian markets show significant disparity in terms of voice as a % of revenue. Worst case is a large percentage of voice revenue exposed to repricing, combined with voice still representing a large percentage of overall revenue.
Interconnect: There is a significant incumbency advantage in many Asian markets due to the nature of interconnect math in the region (please see here for our detailed report on the subject). A shift away from traditional voice minutes (triggering interconnect) towards VoIP messaging apps (without interconnect) could reduce this incumbency advantage and encourage new Read the rest of this entry »
By Webmaster - Last updated: Friday, February 28, 2014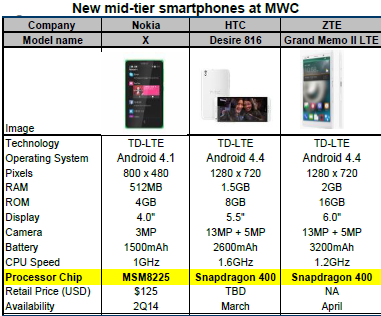 In the MWC 2014 Barcelona, Mid Tier SmartPhones were center of attraction . HTC's Desire 8 series, Nokia's first Android smartphones, ZTE's Grand Memo, and Lenovo's three new non-flagship models were all targeted for this segment. Qualcomm also rounded out its mid-tier portfolio with a Snapdragon 600 series that will bring an octa-core into the family in 2H14 and Mediatek rounded out 3G with pin-for-pin compatible hexa-core (MT6591) and quad-core versions (MT6588) of its octa-core chip (MT6592) and also rolled out mass-market quad-core 64-bit LTE chipset for 4Q14 (MT6732).
HTC led with a mid-range Desire rather than a new One, Nokia with its first Android smartphones, Lenovo with three non-flagship models, and a host of Chinese mid-tier LTE devices also making their presence felt. We forecasts sub US$300 smartphones will see 32% YoY unit growth in 2014, versus overall smartphone market growth of 22%.
Entry-level smartphone based on Firefox. A key selling point for mobile carriers to push Firefox Read the rest of this entry »