By Webmaster - Last updated: Wednesday, March 5, 2014
The impact of these apps on Asian telcos is in many instances just beginning, given low smartphone penetration rates in many of our markets. The combination of low priced smartphones combined with mispricing of data creates significant risks.
Data Vs Voice Pricing: We examine current voice pricing compared to pricing implied by current voice usage and current data pricing. We calculate a data equivalent for current voice usage, and then we solve for the implied "VoIP price per minute" relative to the current ARPM. All markets studied show 60%+ voice revenues at risk.
Voice as a % of total service revenue: Asian markets show significant disparity in terms of voice as a % of revenue. Worst case is a large percentage of voice revenue exposed to repricing, combined with voice still representing a large percentage of overall revenue.
Interconnect: There is a significant incumbency advantage in many Asian markets due to the nature of interconnect math in the region (please see here for our detailed report on the subject). A shift away from traditional voice minutes (triggering interconnect) towards VoIP messaging apps (without interconnect) could reduce this incumbency advantage and encourage new Read the rest of this entry »
By Webmaster - Last updated: Friday, February 28, 2014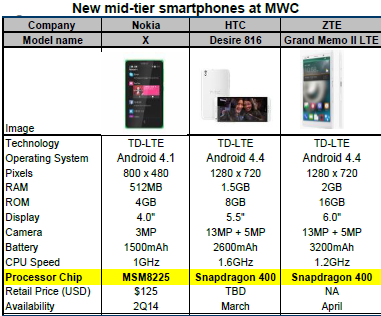 In the MWC 2014 Barcelona, Mid Tier SmartPhones were center of attraction . HTC's Desire 8 series, Nokia's first Android smartphones, ZTE's Grand Memo, and Lenovo's three new non-flagship models were all targeted for this segment. Qualcomm also rounded out its mid-tier portfolio with a Snapdragon 600 series that will bring an octa-core into the family in 2H14 and Mediatek rounded out 3G with pin-for-pin compatible hexa-core (MT6591) and quad-core versions (MT6588) of its octa-core chip (MT6592) and also rolled out mass-market quad-core 64-bit LTE chipset for 4Q14 (MT6732).
HTC led with a mid-range Desire rather than a new One, Nokia with its first Android smartphones, Lenovo with three non-flagship models, and a host of Chinese mid-tier LTE devices also making their presence felt. We forecasts sub US$300 smartphones will see 32% YoY unit growth in 2014, versus overall smartphone market growth of 22%.
Entry-level smartphone based on Firefox. A key selling point for mobile carriers to push Firefox Read the rest of this entry »
By Webmaster - Last updated: Wednesday, January 29, 2014
For the Feb 2014 Spectrum Auction in India, we expect incumbents like Airtel and Vodafone to win back 900 MHz spectrum in circles where it is coming up for renewal. Although we do not rule out select overbidding risks, we note that the amount of 900MHz spectrum up for action is sufficient only for three telcos to win 5 MHz spectrum each. Reliance Jio Infocomm and Idea Cellular are Serious Bidders along with incumbents thus overheating the race.
For 1800 MHz spectrum auctions, we expect at least 20-25 MHz of spectrum in each circle to be auctioned. With the spectrum rules allowing each telco to bid for a maximum of 5 MHz, we expect the bidding to be rational in the upcoming auction, as at least four telcos could acquire the spectrum at the reserve price. We expect to see more bids (though rational) Read the rest of this entry »
By Webmaster - Last updated: Wednesday, December 18, 2013
Netflix began as a company that shipped DVDs by mail [addressed the problem of Late Fees with which American Consumers were bogged down]. But, beginning in 2007, the firm began to purchase digital rights and began streaming over the web. The price point was reasonable, about $8 a month. That's about 1/10th the cost of a typical US pay TV package. In 2007, Netflix introduced Real Time Entertainment and garnered 1.2 million streaming subs in the US. By 2013, we expect 33 million streaming subs. That's about 1/3rd of the US pay TV market (which has about 90 million pay TV subscriptions).
So, has the growth in Internet video impinged upon the traditional TV ecosystem? Yes, it has. But relative to Netflix's sub growth, the disruption has been modest. The liver lining is Growth in households that own a TV used to grow at the same rate as occupied housing units. Now, occupied housing units are still growing, but households that own a TV are declining. TV households, TV ratings and TV ad growth are all suffering some degradation in growth relative to the pre-Netflix era.
Netflix and HBO have put a significant emphasis on the region with the former's investment in Time Warner content (first pay TV window for all Warner movies/TV series) particularly notable. The interesting Read the rest of this entry »
By Webmaster - Last updated: Wednesday, December 18, 2013
The Government of India owned, BSNL just a while ago launched Champion "Apna Phone" range of feature phones targeted at masses. The BSNL Champion Mobile Phones SQ 241 and SQ 281 are priced very competitively at Rs 1,399 and Rs 1,699 respectively to the consumer. These phones come pre-bundled with 1200 minutes of talk time on BSNL network. Both companies have recently entered into a strategic alliance to introduce a range of new mobile computing devices including Smart Phones, Tablets, Data Cards and Wireless Networking products.
Features of the BSNL Champion Apna Phone
BSNL Champion Mobile Phone SQ 241 include the option of a dual SIM, video and music players, 6.1 cm screen, FM Player, Powerful speakers, powerful battery, GPRS, Bluetooth, Camera,and TF Card Support and the ability to store 200 messages and 500 contacts bundled with 1200min of talk time.
BSNL Champion Mobile Phone SQ 281 comes with the option of a dual SIM. It has a 1.3 MP camera, a 7.1 cm screen,Bluetooth, FM player, a music and video player-cum-recorder. It is GPRS enabled, has a big 1800mAh battery, a 3.5 mm audio jack, a Torch light and TF card support . bundled with 1200min of talk time.
Kapil Wadhwa, MD, Champion Computers Pvt. Ltd. told us, Read the rest of this entry »
By Webmaster - Last updated: Monday, December 16, 2013
Three main patent pools in smartphones: 1) OS and software, 2) hardware, 3) wireless. We believe workarounds are much easier for the OS and software, and that customers are often covered by their semiconductor and component suppliers' patents. This has made wireless patents the primary battleground. Our analysis focused on LTE (i.e., 4G) as it will become a key requirement.
We feel that wireless patents will be the primary battleground as it is more standards based and non-standards based workarounds are difficult. Overall, unless companies have substantial portfolios in all three areas (e.g., Nokia, IBM, potentially Google) they are likely to still be embroiled in the smartphone patent wars; however, high-level overviews do not immediately show relative positioning within each of the three areas.
A consortium of RIM, Apple, EMC, Ericsson, Microsoft, and Sony paid $4.5B for Nortel's portfolio of ~6,000-patents. The consortium's purchase price was much higher than Google's stalking horse offer of $900M. The portfolio consists of all of Nortel's Read the rest of this entry »
By Webmaster - Last updated: Thursday, October 31, 2013
Announcing the results of Facebook for the Quarter ended Sept-2013, where Facebook Revenues went through the roof due to consumer engagement and solid growth in Mobile Segment, the company also highlighted Mark Zuckerberg's 3 focus areas.
Mark Wants to Connect Everyone Like Google, FB would clearly benefit from accelerating Internet usage, the company's focus has turned to spreading Internet access around the globe to reach the "next 5 billion people". To that end, FB has launched Internet.org in August (in cooperation Samsung, Ericsson, Qualcomm, and others) to help boost Internet growth, particularly in developing regions.
Understand the world This is based on the concept of building Read the rest of this entry »
By Webmaster - Last updated: Saturday, October 5, 2013
Consumers are increasingly spending more time on mobile internet. Globally, mobile traffic accounts for 15% of total web traffic. Despite the increasing chunk of media time spent on mobile, monetization remains challenging to mobile operators, app developers, and content publishers.
In China, for example, consumers spend 22% of media consumption time on mobile, but advertising dollars on mobile platform is merely 3% of total ad spending. This is not unique to China. In a more mature ad market such as the US, mobile ads account for 3% of ad budgets, vs. 12% of user time spent, according to eMarketer. One argument for mobile ad is that it is still in its infancy. However, smartphones have been six years old, marked by the birth of Apple's Phone. Even by new media's benchmark, mobile ad spending remains lackluster. As the US media ads spending trends show, by the time desktop internet was in year 6, online ad spending was already a US$8bn market in the US vs. US$4.1bn for mobile ads, according to eMarketer.
The gap between user time spent and ad spend implies future Read the rest of this entry »